Ready to start working out? You need a padded sports bra for comfort. Find the right padded sports bras means you can concentrate on your performance and focus on your goals. Here are different types of padded sports bras for your daily workouts. Perfect for running, gym ang yoga. These padded sports bras keep you comfortable and supported.
Non-removable molded cups
A reliable sports bra keeps you supported and comfortable during workouts. Padded sports bras with built-in, molded cups are made for enough support and comfort. These sports bras come in a variety of shapes and styles, and they all have permanent pads so you do not need to put them back together after laundry. Yvette padded sports bras covered in sweat wicking and breathable fabric, these non-removable molded cups can provide a body fit and good figure.
Zip front sports bras
Get the full coverage support with this zip front sports bra. The compressive fit provides a holds-you-in feel to help you stay secure through any workout. This one has a wide range of sizing from S to 5XL,and 4 stylish patterns for you to choose. Wide shoulder straps and racerback ensure the high support and keep you fully protected during intense training.
Offering an extra back support together with flattering look, this zip front sports bra makes you to focus on your movement. This zip-front bra comes with COOLUX™ technology fabric, it wicks sweat away and keep you breathable all the time.
Level up your workout with this zip front sport bra. The double shoulder straps together with racerback help to avoid bouncing during exercises, and provide the ultimate support for you. Unique double layer two-in-one design with mesh material offer reliable support and breathable wearing experience.
Adjustable 

sports bras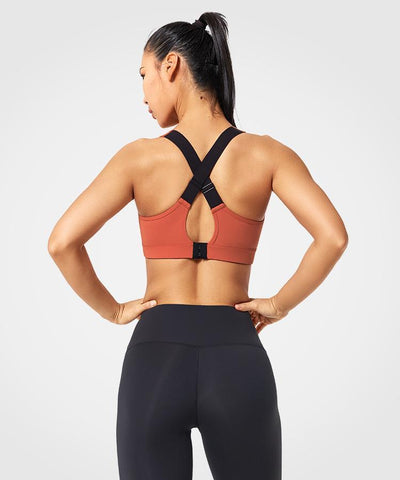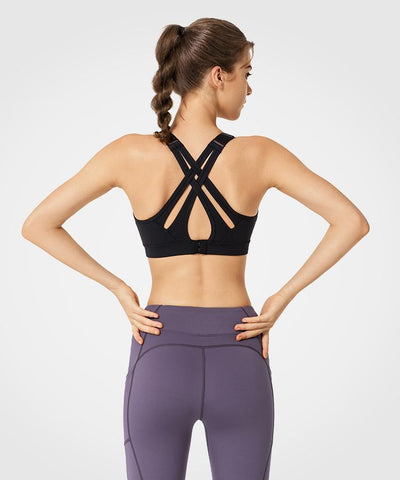 One of the best high impact sports bras in Yvette. Criss cross back offer the enough support while the adjustable straps let you adjust it according to personal needs. It prevents the bounce during workouts and allows you to embrace the perfect body shape.
This high impact sports bra provides superior support and exceptional comfort for you. 10-level adjustable shoulder straps can satisfy your personal fit, while the chest band allows 9-level adjustments to wrap you firmly for totally control.
Sports bras in sustainable collection 
Our sustainable sports bras are great to nature and planet. Made from 75% recycled polyester which the composition is more than the most sports bra on the market. These eco-friendly sports bras are all made with non-removable molded cups.
Based on our most classic power back bra, this sports bra gives you professional support with a criss cross back support during intensive workouts. Flattering back straps make you look more stylish. 
Be 
eco-friendly for a vast forest. This high impact sports bra allows adjustment on the back according to your personal needs. It's made with 75% recycled fabric
which is sustainable, breathable for comfortable. 
Crafted in soft, stretch and comfortable recycled fabric, this light support sports bra is made for offering extreme comfort. The moulded cups offer great support. It features wrinkled details and a wide bottom design for extra coverage.
Removable
pads
Yvette Sports bras with removable pads are low impact sports bras. We add removable pads to offer more support and shape for you. Removable padded cups can be taken off easily according to your preference. These sports bras are made for low impact workouts like yoga and Pilates which means you don't need to worry the pads moving during workouts. 
Body fit design lets you show the flattering curve. This padded sports bra keeps you moving naturally during low impact workouts. This low impact sports bra made with buttery soft fabric that's super breathable. The broad chest band provides a comfortable fit.